Nebraska Moderate Risk Day - 1st June 2018
​
On the 31st May, we drove from Hays (Kansas) to Valentine (far north-central Nebraska), which would be our starting point for chasing the following day. Storm prospects on the 1st June looked rather tasty - with a vigorous positively-tilted upper trough forecast to exit the central Rockies into the Plains. There had been hints on the NWP models of such an event up to 10 days before-hand, so we had some prior expectations. The bar for severe storms was set very high, because this day was forecast to have the highest instability of any day we'd chased on, as well as significant wind shear and a good forcing mechanism for storms to develop on.
On the 1st June we lingered close to Valentine during the early afternoon, as storms were expected to fire very close to the town, in a narrow warm sector, as an upper trough and surface low lifted north-east into the Dakotas. Initially, we watched cumuli rapidly grow into explosive cumulonimbi right above our heads, as the increasingly destabilising warm sector began to overturn. This was by far the highest CAPE we'd chased, with 4000-5000 J/kg surface-based CAPE - dry blue temperatures in the upper 80s, and dew points in the upper 60s/ low 70s can be blamed for this. ​
WPC surface analysis for 16:00 CDT. Notice the large warm sector envoloping most of the plains. A dryline is analysed as the weak fontal feature responsible for storm iniation across Nebraska. Credit: Weather Prediction Center.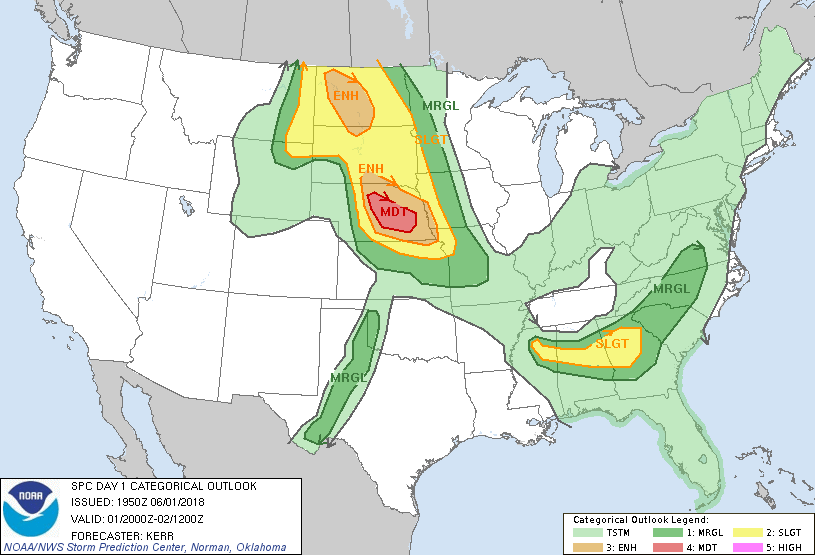 SPC convective outlook, valid for 15:00 CDT. A moderate risk was issued where the greatest probility of significant severe convective winds were expected. Credit; Storm Prediction Center. 
SPC tornado outlook valid for 15:00 CDT. Although there was a small (5%) risk of tornadoes within the area we'd decided to chase, a greater risk (10%) was forecast for North Dakota. We were not prepared to drive that far (as we'd started from Norman). Credit: Storm Prediction Center. 
Unfortunately, as was expected, the storms very quickly upscaled into a linear mess, as a cold front quickly overtook the surface warm sector. At best, this gave us only a couple of hours of discrete storm chasing, before the storms merged into a quasi-linear convective system. After faffing around for a while trying to determine which storm looked best, we finally settled for the community of Sparks, to the north-east of Valentine. From this position, we could see at least three separate storm updrafts - two of the updrafts had wall clouds, but only weak rotation could be seen on radar and visually. We also saw several suspected funnel clouds, although there was little radar evidence to back these up, other than their positions in the storms. 


It quickly became apparent that the storms were very quickly evolving into a linear mess that was becoming increasingly difficult to chase. Just to the south of Springview, NE, we observed another poorly-developed wall cloud on a weak supercell, although this never produced a funnel. Our attention then turned towards remaining ahead of the increasingly large line of thunderstorms developing to our west - reports of large hail and strong winds quickly came flooding in. We drove south-east through the towns of Atkinson, O'Neill and ultimately towards Norfolk, in east-central Nebraska. We briefly paused to observe one of the greatest mammatus display I've ever seen - the bulbous clouds almost completely covering the sky underneath a massive thunderstorm anvil (which by this point covered a good portion of Nebraska and South Dakota).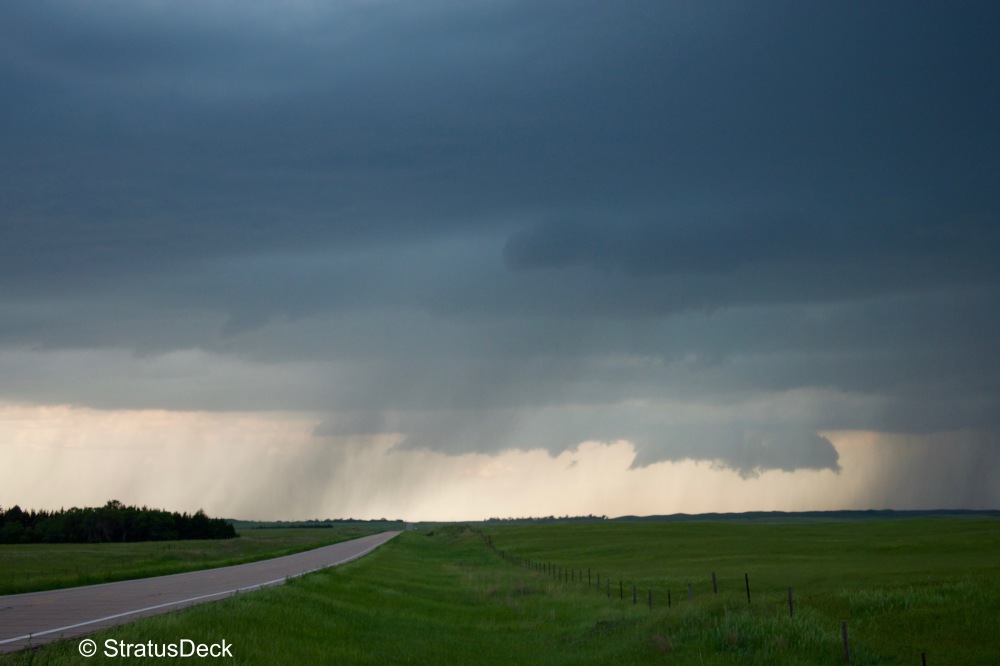 Wall cloud lowering from a high-precipitaiton supercell near Sparks, Nebraska.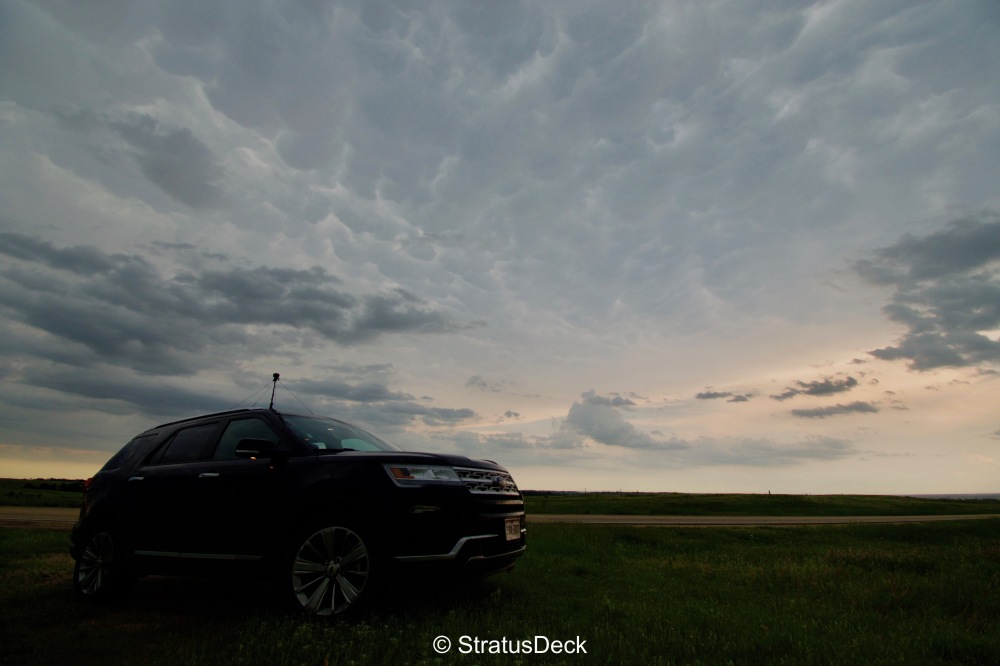 The car looking badass underneath a nice mammatus display.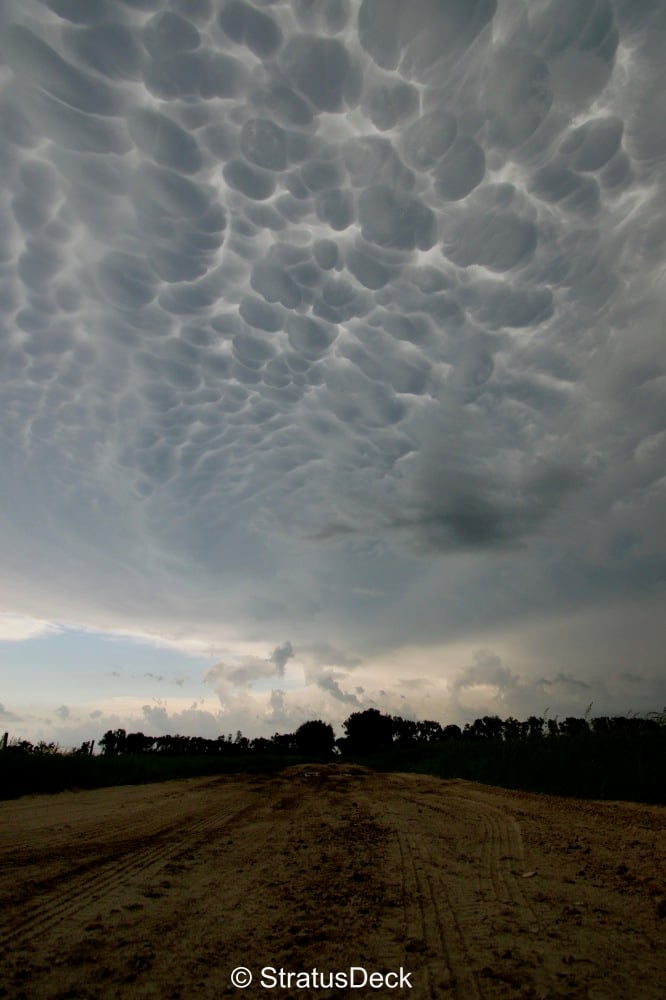 Epic mammatus display close to Ewing, Nebraska.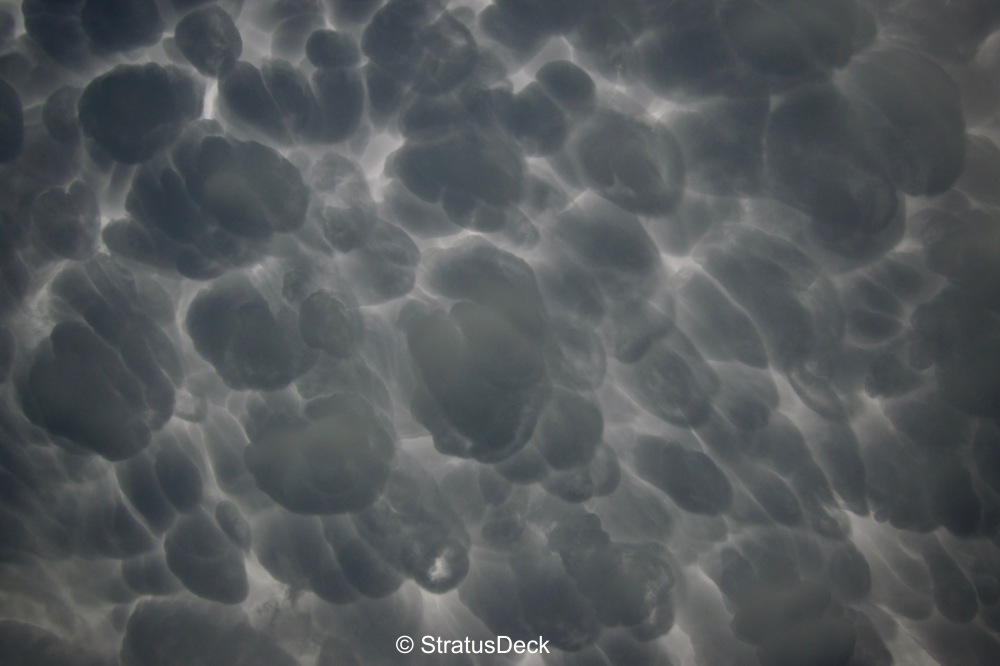 Epic mammatus display close to Ewing, Nebraksa. The vividness of each individual mamma cloud was the greatest I'd ever seen.
We decided to head towards Norfolk, to get fuel and food at the end of the chase. However, the MCS (rapidly becoming a leading-line, trailing-stratiform band of thunderstorms by this stage), overtook us for a while as we neared Norfolk. We could see that we had to drive through some large hail for a short distance - only the pattering of rain could be heard for a short while, before there was suddenly a huge "BANG" as an inch-sized hailstone slammed into the glass roof. Luckily, the hail didn't get any larger, and we pushed through the rain and hail unscathed. 

We quickly fuelled up in Norfolk, at around 10:30pm and were just about to head inside for food, when we heard the bloodcurdling wail of the tornado sirens - we knew that the storms were way beyond producing discrete tornadoes, but that embedded, rain-wrapped tornadoes were still a possibility, especially with the low-level jet ramping up after dark. We parked the car under the gas station roof in the best position to avoid the worst of the rain and any potential hail. Inside the gas station, we were ushered into the freezer straight-away (the strongest part of the building), and were given blankets to keep warm (it must have been 5C in there). Subsequent radar analysis indicated that a tornado was unlikely, (although one had been observed that initiated the tornado warning in the first place). We waited for about 30 minutes, eventually venturing out of the cold freezer, to watch 50-60mph straight-line winds and torrential rain batter the place. The rain was faling horizontally, so it didn't matter where we parked the car - it would have still bee exposed! No tornado hit Norfolk (or the gas station, for that matter), and there was no major damage to report either. It was an exhilarating way to end an otherwise disappointing chase - and the second time I've been forced to take shelter from a tornado.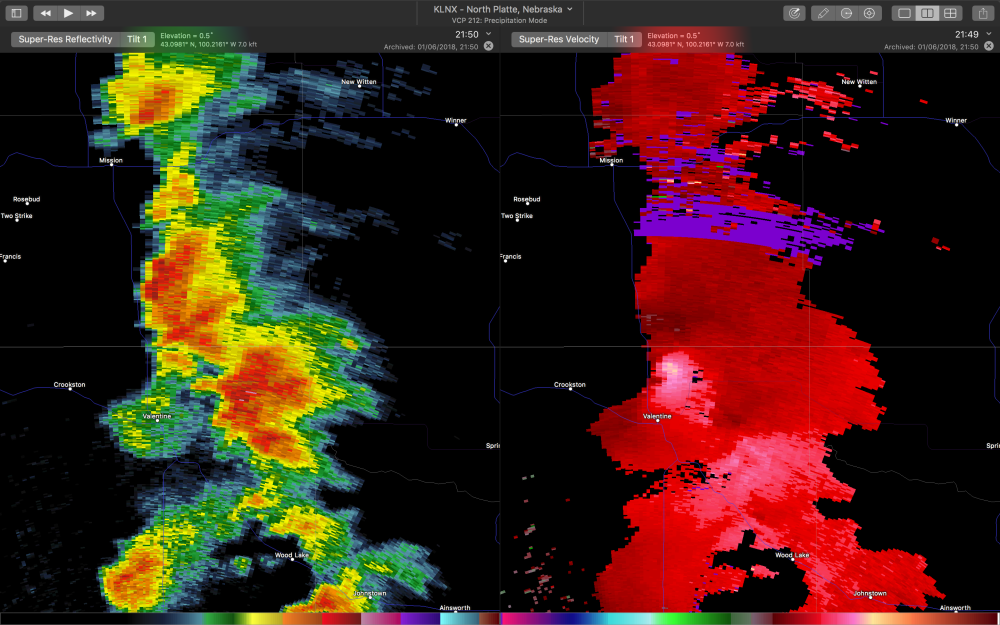 Super-res reflectivity and velocity images of the quasi-discrete severe storms in the developmental stage. Credit: Radarscope.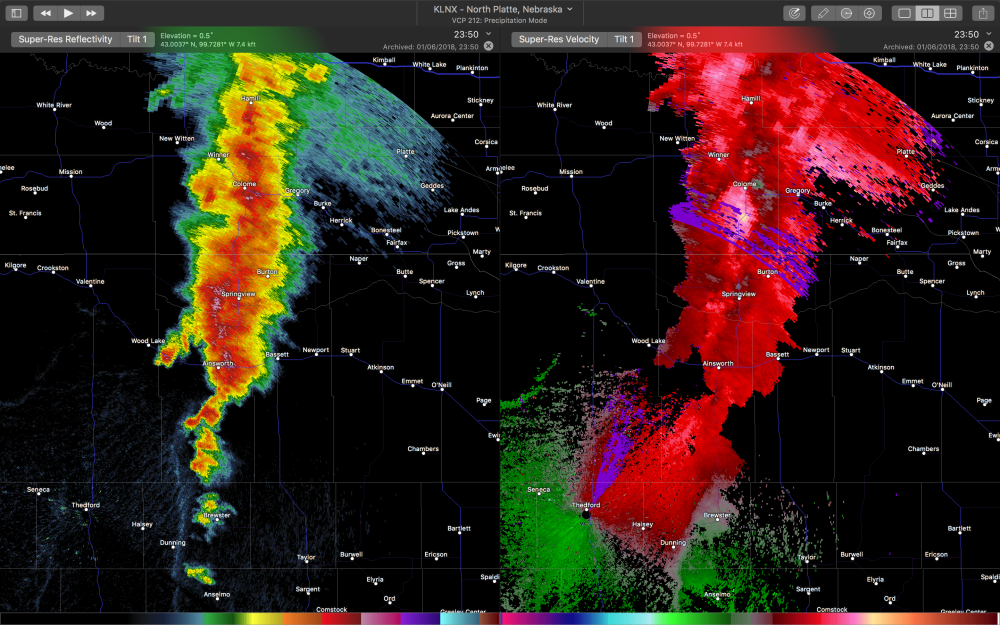 Super-res reflectivity and velocity images of the now near-continuous line of thunderstorms stretching north-south across central Nebraksa. Image valid for two hours after the top image. Credit: Radarscope.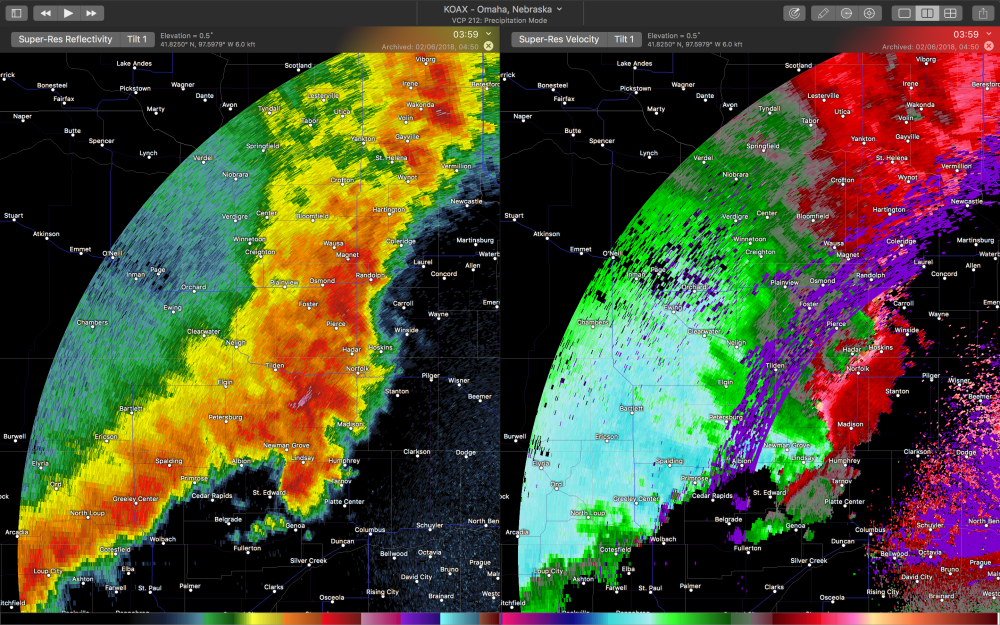 Super-res reflectivity and velocity images of the LLTS squall line that propagated south-east into east-central and then south-eastern Nebraska overnight. This image is valid for just after a tornado was reported to the south-west of Norfolk, and a subsequent tornado warning was issued. Credit: Radarscope.