27th July 2018 - Severe Thunderstorms in Norfolk
In June and most of July 2018, there was a distinct lack of thunderstorm activity in the UK, mainly thanks to a near-stationary ridge to the east which prevented Atlantic troughs edging in from the west, with the jet stream bifurcating well to the north and south of the UK. The second half of May was especially thundery - although ironically I was away in the USA chasing storms then. 
So when signals started to appear that a period of exceptionally hot weather in the final few days of July may finally be broken down, as a trough approached from the west, I immediately started to take notice. A short-wave trough was expected to dig south-east into the North Atlantic from Greenland, before lifting to the north-east of the UK on the 26th and 27th. Thursday 26th July was exceptionally hot right across central and southern Britain, as a southerly airflow began to edge across the country from France. With a maximum temperature of 35.3C at Faversham (Kent), I also recorded a high of 34.8C at my own personal weather station in Tooting (believable as several other weather stations in W and SW London (Heathrow, Kew Gardens, Hampton Waterworks) recorded 35C or higher), it was the hottest day of the year. Large CAPE developed across much of central England, with some elevated thunderstorms developing in the afternoon and evening across central and northern Britain. 
By Friday, the trough, which extended south to the west of Biscay, had begun to lift to the north of the UK, and a cold front was situated in the Irish Sea by the morning. Ahead of this front, the exceptionally hot Tropical Continental airmass remained, with an elevated mixed layer (EML) providing a strong cap to any surface convection that tried to develop early in the day. Having been on a night shift the previous night, I was treated to some elevated multicell storms that developed to the east of London in the early morning, anvils glowing orange from the rising Sun, and steadily drifting north into East Anglia. Maxima of around 35C were forecast in East Anglia - potentially even hotter, although how extreme the heat would be hinged strongly on the cloud cover - and storm development - that afternoon.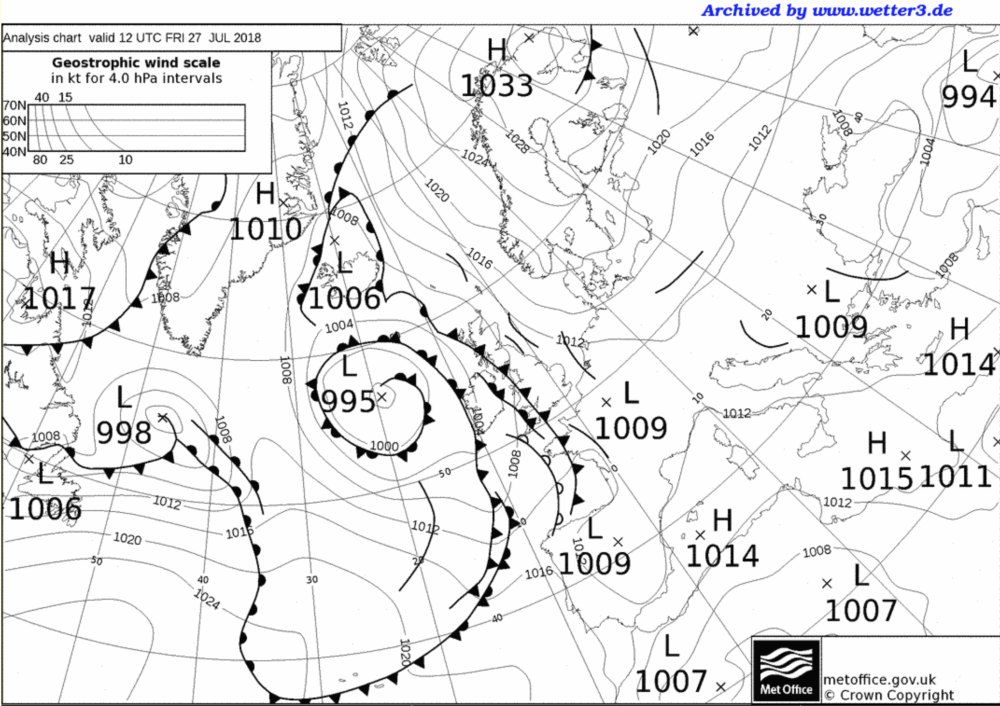 Met Office surface pressure analysis at 12:00 UTC 27.07.2018. A strong cold front sits in the Irish Sea, with various trough lines lying ahead of the front - some of which would act as a focus for storm development later in the day. Credit: Met Office.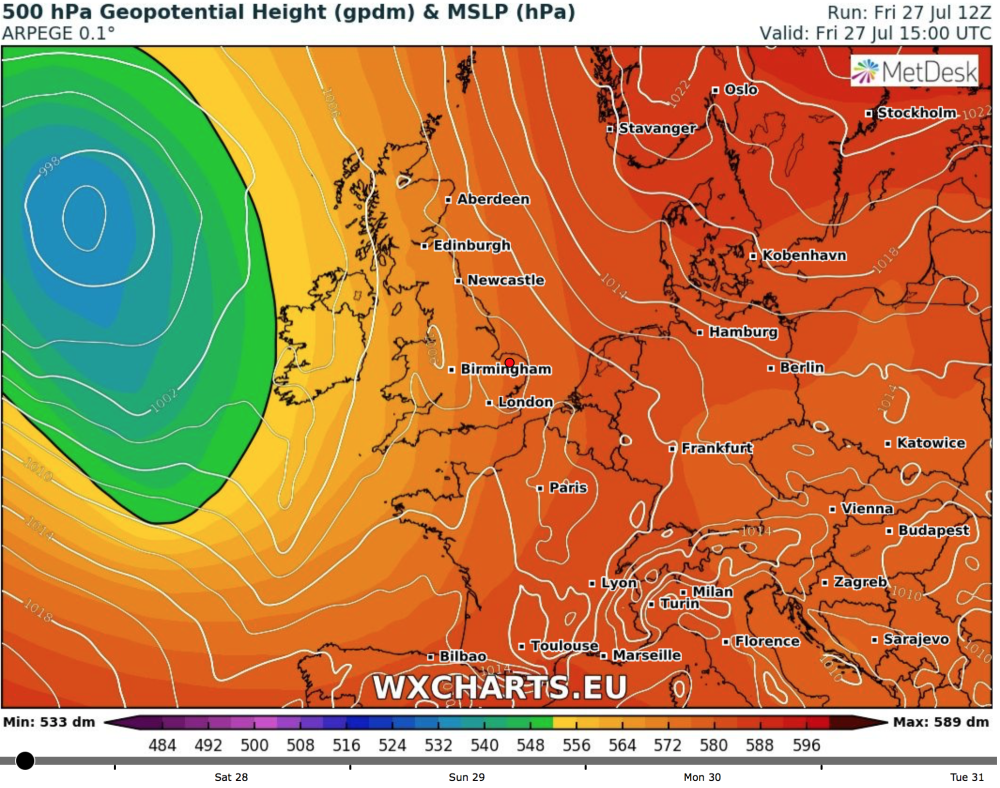 500hPa Geopotential height and MSLP forecast for 15:00 UTC 27.07.2018. Trough to the west of the UK was lifting to the north-east.
After the night shift, I headed out of London to meet up with fellow storm chaser Scott, where we made a fairly relaxed decision as to where to head. We weren't expecting to see much - partly because the synoptic set-up only warrented partially severe thunderstorms, but mainly because the UK road network does not, in any way, support storm chasing whatsoever - something we'd frustratingly experience many times during the day. With a jet stream gradually heading in from the west ahead of the trough, deep-layer shear was expected to increase throughout the day, as instability also built. However, shear was mainly expected to be uni-directional, supporting mainly multicell storms, but also a few splitting supercells. A lack of wind shear in the 0-1km layer would make tornadoes unlikely, although if any storms developing on the sea-breeze front ingested some baroclinically-generated vorticity here, then stronger low-level rotation could pose a risk of an isolated tornado. Estofex had issued a Level 2 warning for East Anglia and Lincolnshire for exactly this threat: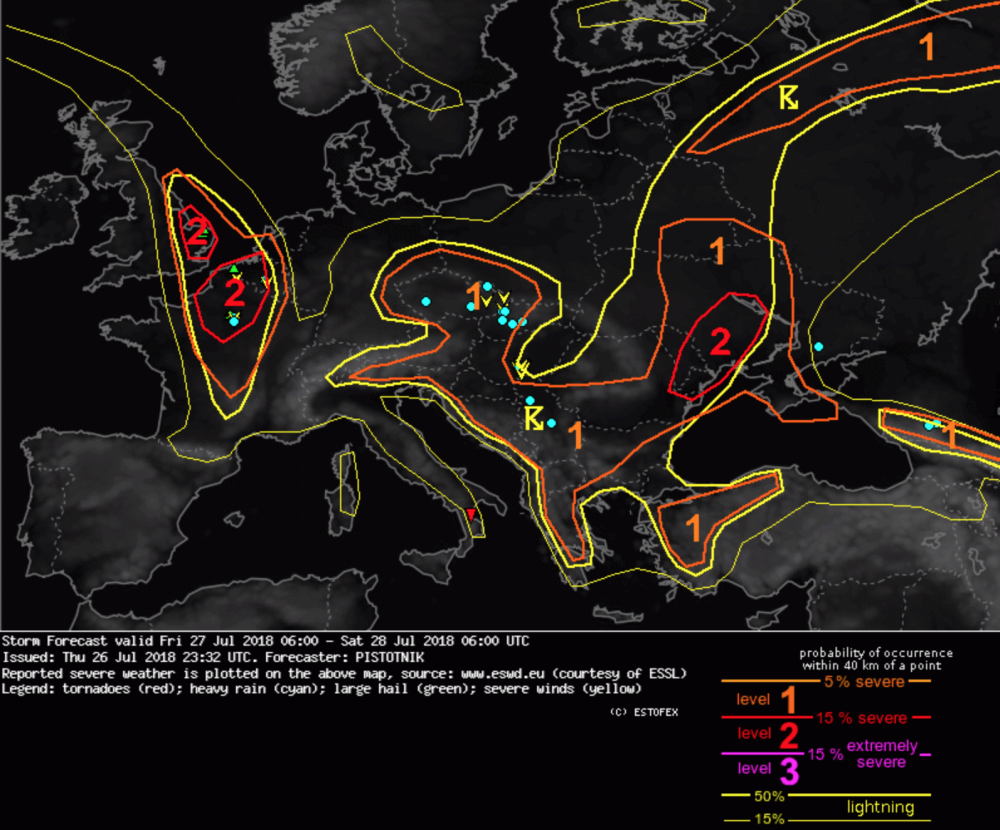 Estofex warning, with severe weather reports overlaid, for 27.07.2018. Credit: Estofex.
With abundant heat and mosture on the cards across much of E and SE England, significant instability (by UK standards) was expected to build during the afternoon. The highest gridpoints from ECMWF indicated 1500 J/kg+ CAPE across E Anglia and E England, with the French Arome and Arpege models mirroring similar results: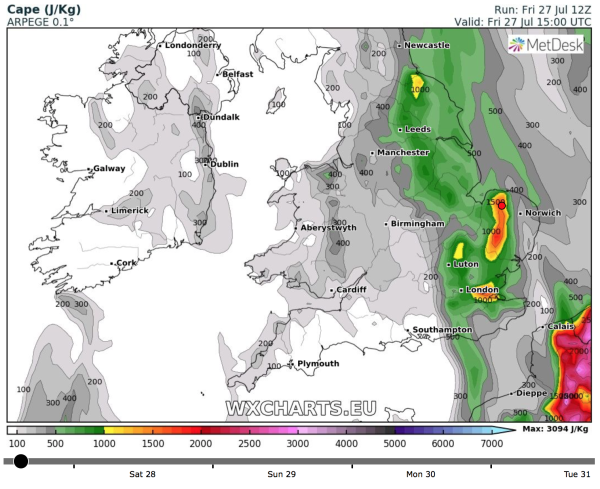 MUCAPE from the Arpege and Arome models at 15:00 UTC on 27.07.2018. Notice how CAPE is enhanced across Norfolk/ Cambs, as well as Lincs and E Yorkshire too. Credit: wxcharts.eu.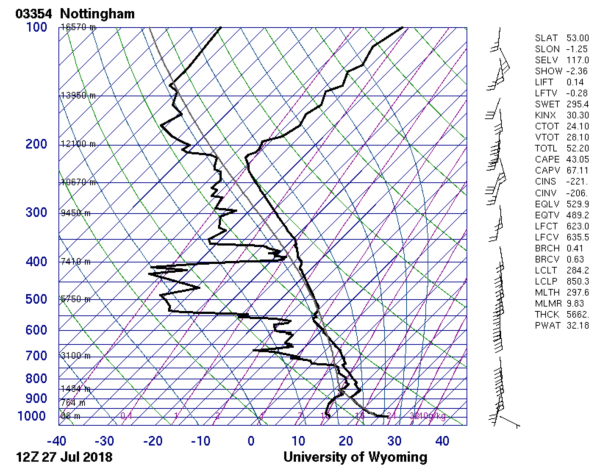 Observed 12:00 UTC sounding from Nottingham (left), just to the west of the exceptionally hot, moist airmass over E Anglia. Modifying the sounding with observed dewpoints and dry-bulb temperatures across N E Anglia, this profile yields 1000+ J/kg CAPE, with strong speed shear. Forecast Arpege sounding (right) for Norfolk at 15:00 UTC - the location where we would intercept a severe thunderstorm later in the day. 
Credit: University of Wyoming/ wxcharts.eu.

An initial target of Cambridge was decided, and we embarked on the chase. The route took us right through Luton airport - we essentially drove right through the car park, which, on a Friday afternoon is far from quiet. We spent a lot of time frustratingly stuck in traffic jams (probably over an hour), before finally hitting clearer roads to the south-west of Cambridge. It really was as hot as I've ever felt it in this country - the car thermometer read 36.5C(!) at one point - the intense heat no doubt enhanced by the parched-dry ground. For lunch, we made an obligitory stop at a McDonalds, with the scene - blue skies, wide expanses of flat, open, dry fields and intense heat, more akin to western Oklahoma or Kansas - stepping outside after the cool airconditioning of the resturant felt like stepping into a furnace! 
Some aggitated cumulus started to develop close to Norwich on a wind-shift line, which was no-doubt associated with a synoptically-modified sea-breeze front. An isolated thunderstorm then rapidly developed to the north-east of Cambridge, with a precipitation echo quickly becoming evident on radar. Picking this as our first storm target, we raced towards it along the A11 towards Thetford, knowing we had to be quick to catch up with storms moving north at 30mph. The storm became elongated on radar - like a fat sausage, and looked like a back-building multicell storm to me. However, catching up with a developing thunderstorm in the UK is nothing like in the US - on this side of the pond, traffic, road-works and roads with corners all get in the way, not to mention the infuriating 30mph speed limits in the villages. Thus, it took us over an hour to catch up with the storm, eventually doing so in north-central Norfolk, where we found a lack of decent roads would add to the frustration. We settled on ditching attempts to photograph any storm structure, and instead went to fully intercept the storm, knowing there could be marginally-large hail lurking within.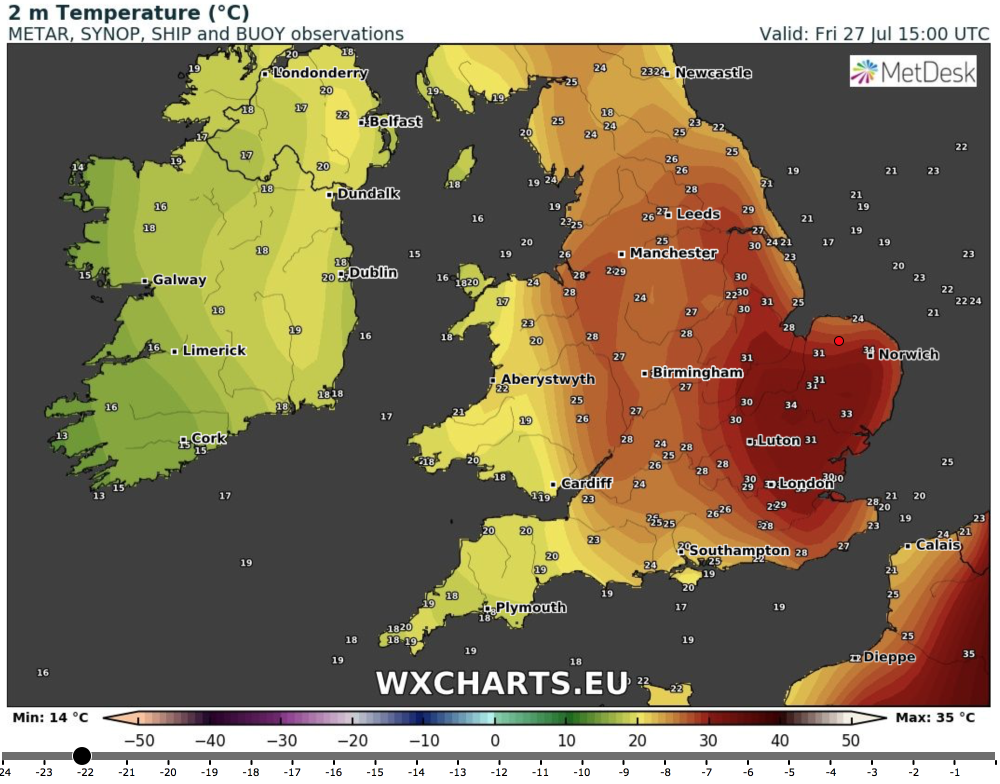 2m temperature observations at 15:00 UTC. A maximum temperature of 34.7C was recorded at Tibenham in Norfolk. Credit: wxcharts.eu.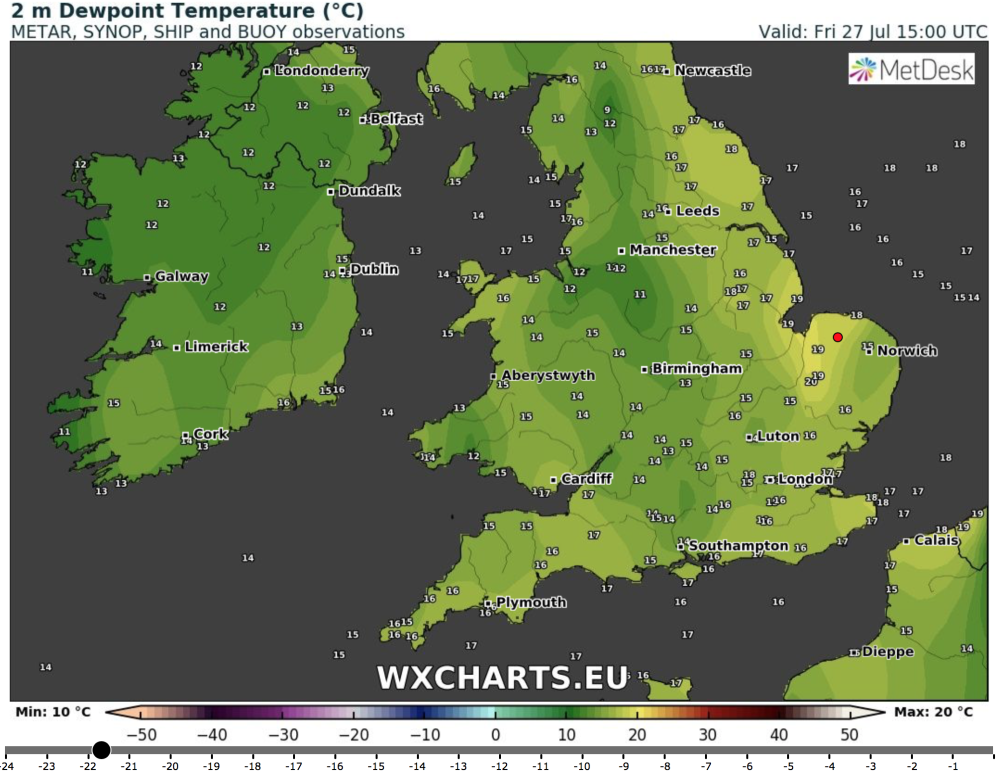 2m dewpoint temperature observations at 15:00 UTC. Notice the very high dewpoints of 19/20C in Norfolk/ Cambridgeshire. Credit: wxcharts.eu.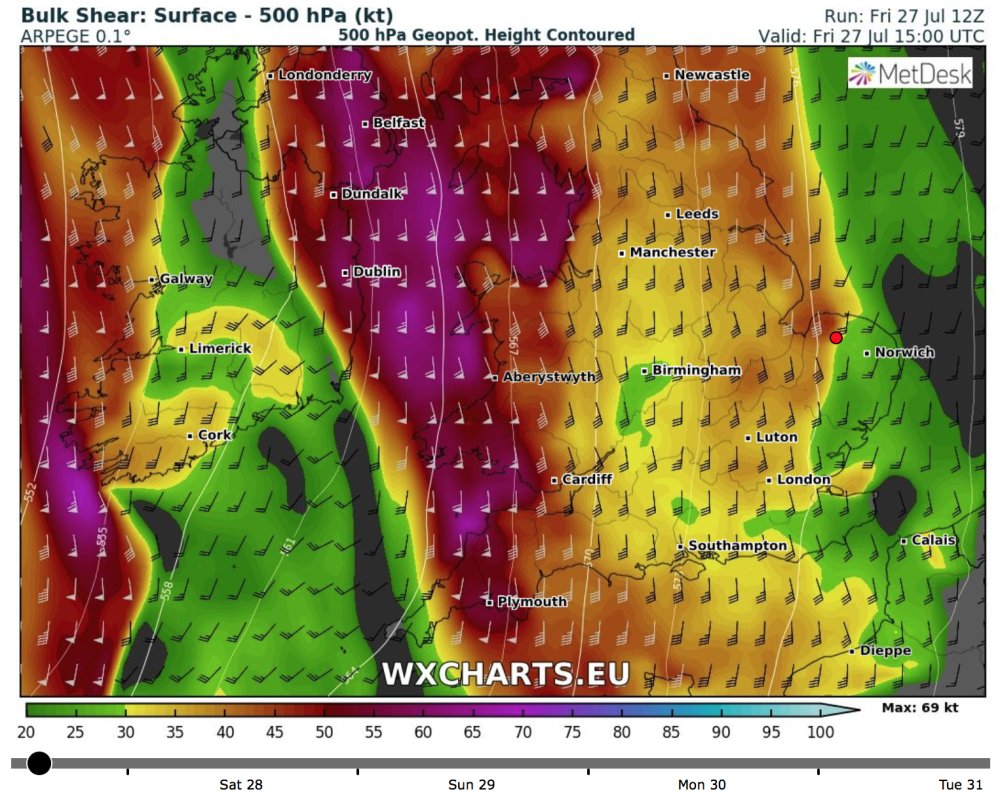 Bulk shear (from the Arpege model), for 15:00 UTC, illustrating nicely how wind shear increased with westward extent to the upper trough. Credit: wxcharts.eu.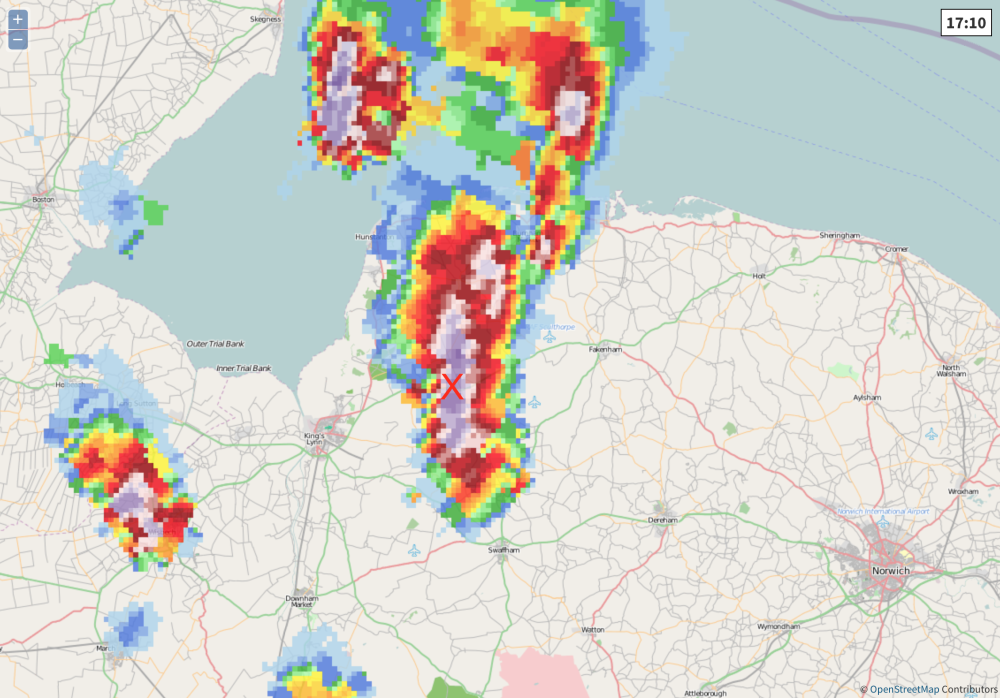 Rainfall radar image for 16:10 GMT (17:10 BST), with the severe backbuilding multicell storm in northern Norfolk. Our approximate location is marked by the red "X" (which is where we took photos of large hail from). Credit: Netweather.tv.
With the storm continuously back-building to the south, we managed three interceptions (core punches), before it headed off into the North Sea. Driving along tight and twisty country roads, the first interception near to the village of Great Massingham, saw us traverse torrential rain and flash flooding, with the baked-hard ground near impervious to such heavy rain, before we also heard a few large "BANGS" on the window, bonnet and roof as a few large hailstones also fell. The stones were impossible to see amid the myriad of rain and spray, although we estimate them to be marble-sized. ​

After a near-miss experience with a local bus in the village of Grimston, in which Scott essentially had to run his car into a hedge to avoid being taken out, we managed a second core punch on the A148. This time, the hail was much larger, and we had to pull over and put the hazard lights on. Our side road quickly became a medium-sized lake as the rain poured down, and large hailstone fell all around. I estimate the larger stones to be 40+mm in diamater (picture below) - just about small enough for Scott's car to finish the day without any dings or dents. The hail alone made the entire chase worthwhile - it was by far the largest hail I've ever seen in the UK (technically, I'd only ever seen graupel before). 

After the hail and rain had eased, we traversed the now trecherously-flooded road east, as we tried to keep up with the storm. We saw numerous large branches downed, including one large oak tree which had been toppled at the base by strong straight-line winds - fortunatly it fell away from the road. We managed one further storm interception in the village of Docking, although there was no hail this time, before the storm weakenened as it headed out into the sea.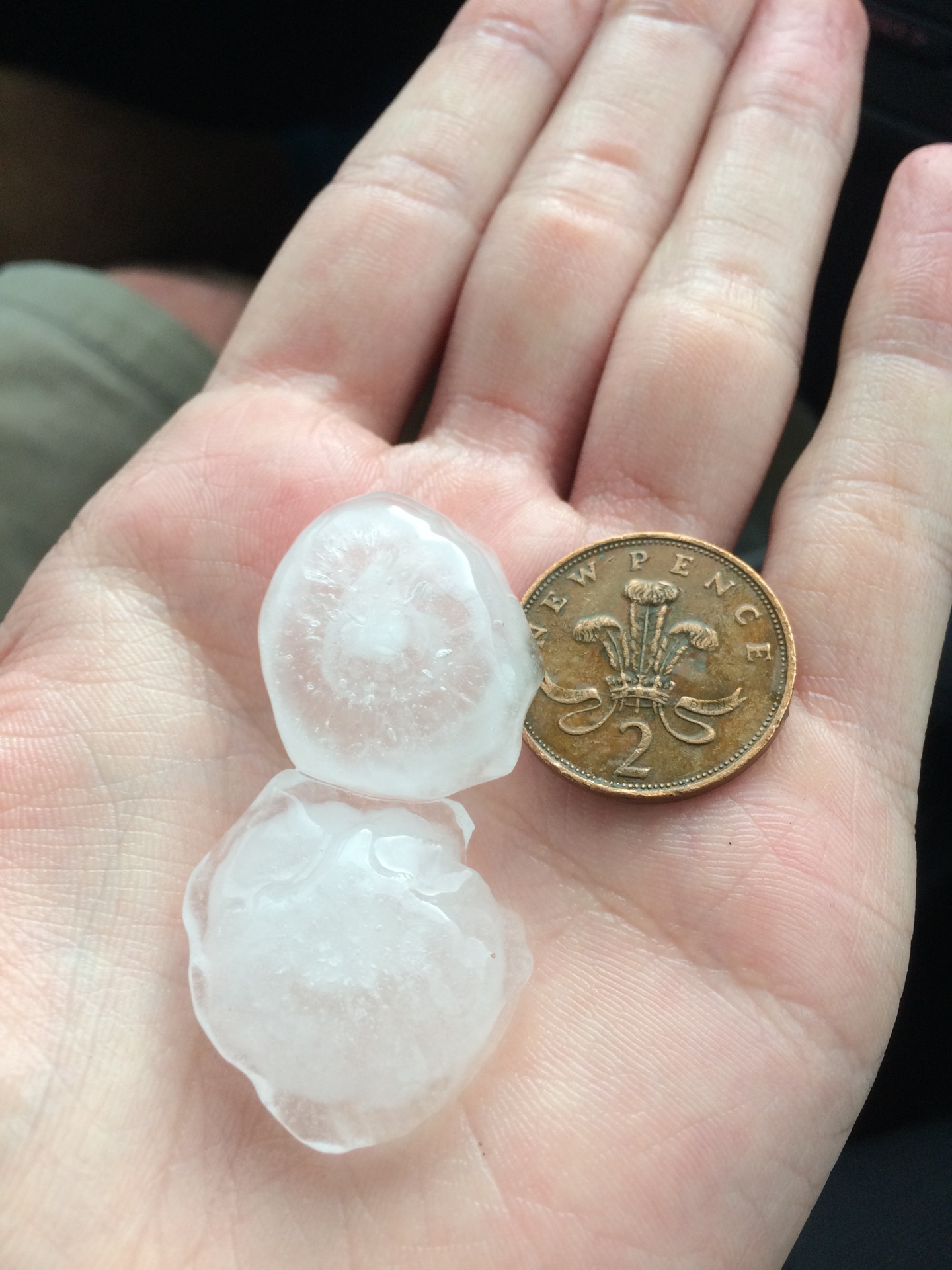 A few of the largest stones we could find, in my (rather large) hands.

Credit: Scott Duncan.
We then decided to slowly head back home towards London, taking detours along the way to intercept any of the multitude of storms which had developed across East Anglia and the East Midlands. Close to Sandringham, we glimpsed a shelf cloud in-between the trees from a mass of thunderstorms over the Wash, as well as glimpsing a flash of, (what looked like), three funnel clouds, as the trees parted. After initial excitement, we decided that a more rational explanation was that they were in fact dangling "fingers" of cloud handing over the surface cold pool - typical of a mature shelf cloud. We pulled over in the small village of West Newton, to snap some pics of what was a "Whale's Mouth" storm - a rapidly advancing gust front, with chaotic clouds in the middle, and the greenest sky I have ever seen in this county. The storm was upon us within minutes, with strong outflow winds bringing a rapid temperature drop, and sporadic large, plump raindrops started to fall - we pegged it for the car.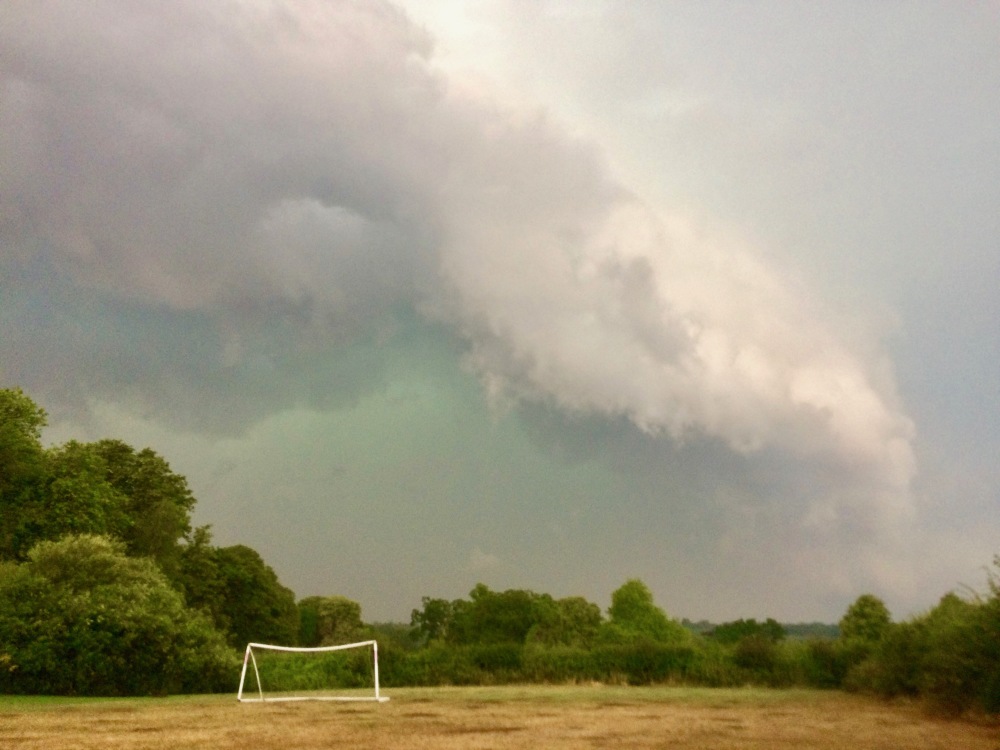 The beginnings of the Whale's Mouth - notice the unusual green tinge to the clouds. Credit: Scott Duncan.
Whale's Mouth panorama. Credit: Scott Duncan.
We then continued our slow, meandering drive south, and after about 20 minutes, stopped close to the town of Downham Market, to watch an impressive roll cloud move towards us - the cloud likely developed on the leading edge of a gravity wave moving away from a group of intense thunderstorms which had developed to our south. Rather unfittingly for such a spectacle, we found a little side road next to a large roundabout at the edge of an industrial estate to observe from - you can't be picky looking for somewhere photogenic when stormchasing in the UK!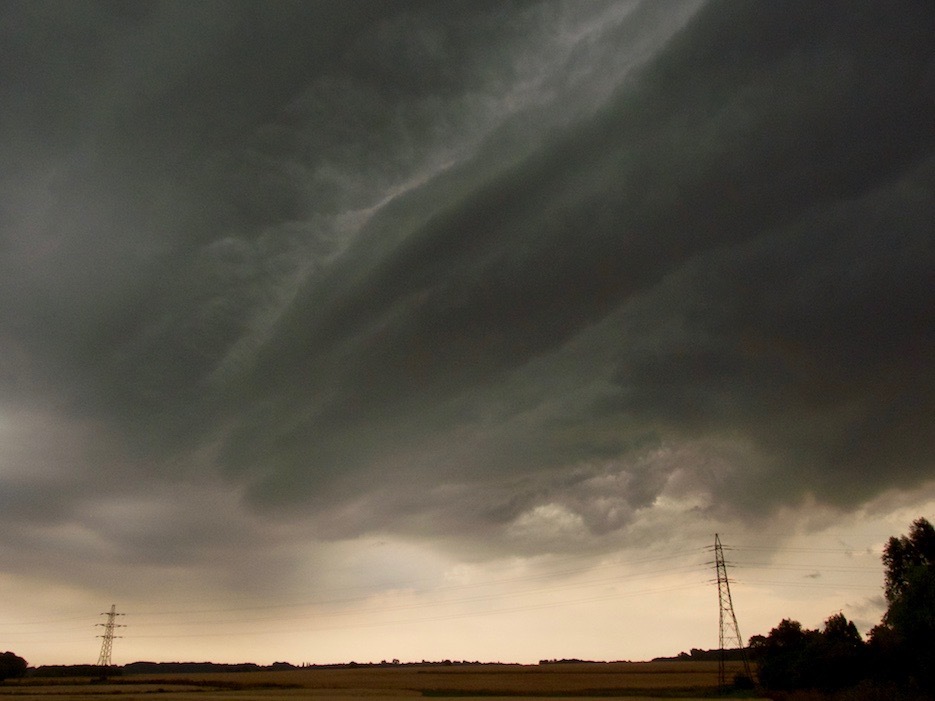 Photo of the roll cloud, which moved directly over our heads. Credit: Scott Duncan.
There was one more treat in store for us before the day was out - we had had our eye on thunderstorms which had erupted over London for while by this point - and they were steadily tracking north towards us. The storms themselves didn't look all that impressive on radar - they were rapidly conglomeratng into an MCS mess, as the upper-level trough began to overspread the region. Instead we stopped in a field, and snapped probably the best asperitas displays I've ever seen. This was a nice way to end the chase - one in which we intercepted a severe thunderstorm (by American standards!), and saw some Great British convective weather!
A display of undulatus asperitas clouds at the end of the day, with distant thunderstorms grumbling away in the distance.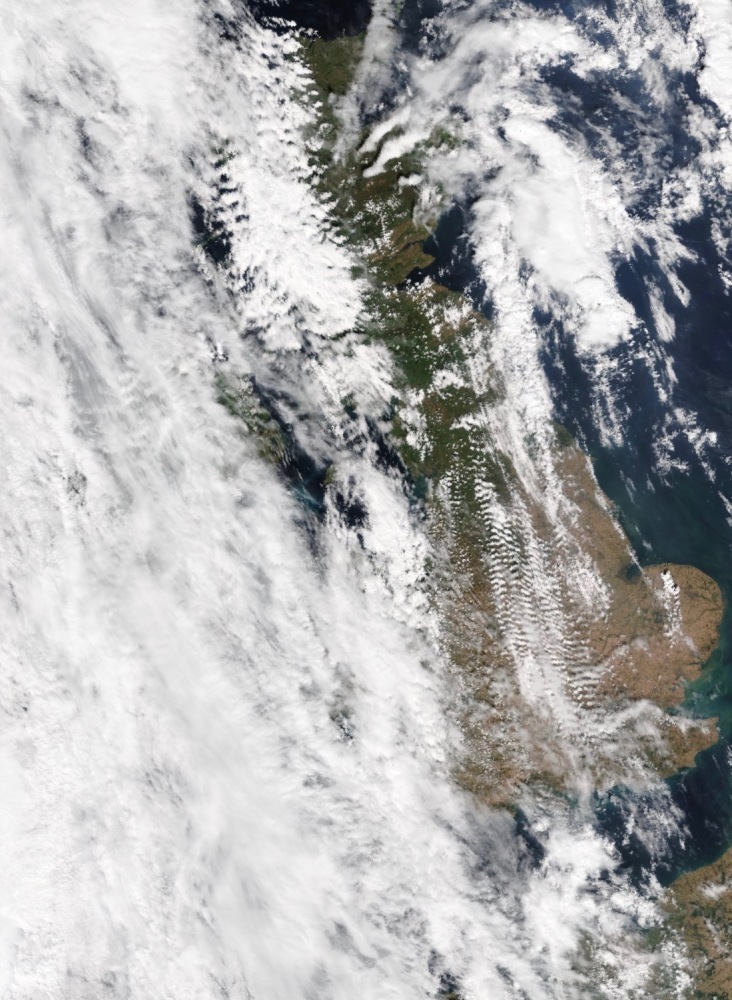 Visibile image from the VIIRS polar-orbiting satellite at 13:07 UTC on the 27th. The first thunderstorms of the day can be seen initiating to the west of Norwich. Credit: NERC Satellite Receiving Station, Dundee University, Scotland. http://www.sat.dundee.ac.uk/
Meanwhile, there were some convincing radar signatures for a splitting supercell that ran across Yorkshire during the evening, after developing to the east of Leeds. There were reports of spikey hail larger than golf balls falling in York, with some impressive photographic evidence of the storm too. 
Simon Lee made the above (rather convincing) argument on Twitter, Illustrating the different directions of motion of each storm split.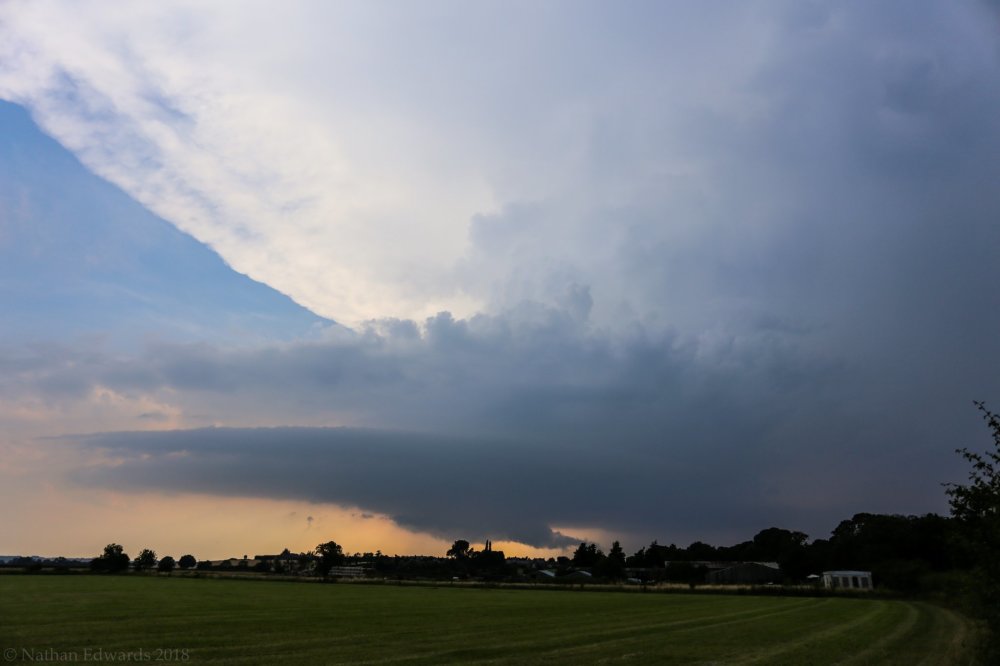 An awesome examble of a UK supercell, with rotating updraft, wall cloud and huge cirrus anvil. Credit: Nathan Edwards.